Events
11.18.2017 - Grand Ball of the Venaria Reale - Vienna on the Lake
Grand Ball of the Venaria Reale - Vienna on the Lake, XXIII Edition, gala dinner organized by Claudio Limontini; Marco Eugenio Di Giandomenico is a member of Onorary Committee, Reggia di Venaria, November 18, 2017.
11.14.2017 - Academy of Fine Arts KANDINSKIJ - Inauguration of the academic year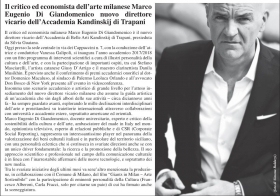 Programma Inaugurazione AA ABAK
[497 Kb]
10.12.2017 - Launch of the book ORIGIN by Dan Brown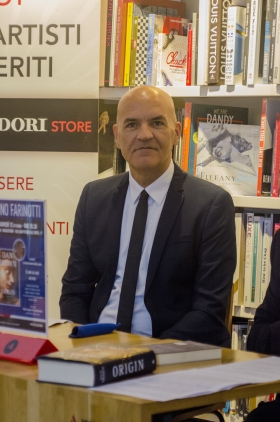 Launch of the book ORIGIN by Dan Browncurated by Pino Farinotti and Marco Eugenio Di Giandomenico, Mondadori Megastore, Milan, October 12, 2017.
http://milano.repubblica.it/tempo-libero/cultura/evento/alla_mondadori_di_via_san_pietro_all_orto_il_libro_che_visse_due_volte-182890.html
http://eventi.mondadoristore.it/it/event/2017/10/12/pino-farinotti-presenta-il-primo-incontro-delle-serie-il-libro-che-vis/2094/

Locandina ORIGIN di Dan Brown
[875 Kb]
09.23.2017 - Miss Volto Italy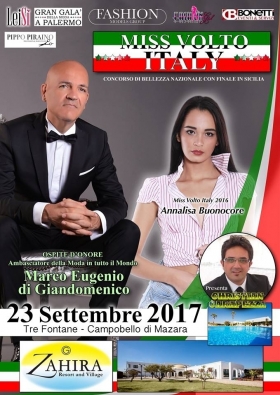 09.21.2017 - Sri Chinmoy oneness-home PEACE RUN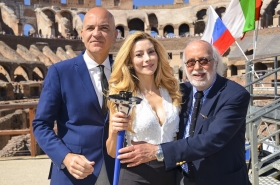 Opening ceremony of Colors of Peace exhibition at the Colosseo in Rome; launch of the first edition of Peace Movie Award whose jury is chaired by Marco Eugenio Di Giandomenico.
Antonella Salvucci and Adriano Pintaldi attended the event.

PEACE RUN
[89 Kb]